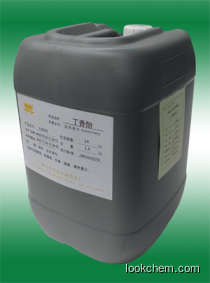 Eugenol CAS NO.97-53-0

Keywords
Eugenol
97-53-0
4-Allyl-2-methoxyphenol
Quick Details
ProName: Eugenol
CasNo: 97-53-0
Molecular Formula: C10H12O2
Appearance: Colorless or yellowish clear oily liqu...
Application: oral medicine for antiseptic and disin...
DeliveryTime: as the client like
PackAge: 25kg/drum
Port: Guangzhou
ProductionCapacity: 80 Metric Ton/Month
Purity: 99.9%
Storage: Sealed and stored in a shady and cool ...
Transportation: by sea or by air
LimitNum: 100 Kilogram
Valid Period: 2 years
Superiority
Medicines GMP certification
Details
1.FoShan NanHai ZhongNan Pharmaceutical Factory was established on April 1st,2002,and it is a professional manufactory in the industry providing materials of medicine and flavors and fragrance, especially in chemical raw medicine, extracts of traditional Chinese medicine, natural perfume, synthetic perfume, and food additives. Main production: Methyl Salicylate, Eugenol, Methol Crystals (from TCM),Peppermint Oil, Eucalyptus Oil, Licorice Extract and Food Flavoring. In addition, Eugenol is the sole listed product approved by National FDA in Mainland China; Quality of Methyl Salicylate is above average compare with others in this industry across the country.
At present ,Our factory has 30% employees as Senior Engineers, Engineers, Assistant Engineers and Licensed Pharmacists. These personnel enhance the ability in product research and development in the future, which allows us to fit in with the needs of the industry and market.
Our factory has several stable clients from GuangDong, JiangSu, AnHui, ShangHai, BeiJing, TianJing, SiChuan, GuangXi, HaiNan, TaiWan and HongKong SAR, also including numbers of Time-honored brand corporation such as GuangZhou Baiyunshan Xinqun Pharmaceutical Co.Ltd, Baiyunshan HeJiGong Pharmaceutical Factory, GuangZhou Baiyunshan Ming Xing Pharmaceutical Co.Ltd, etc. Furthermore, the foreign trading established solid customers from Eastern Asia and the DEP selling to Italy.
In 2012, our factory obtaining the Drug manufacturing Certificate. Meanwhile, we started further investment in upgrading facilities and equipment to fulfill the requirements of National GMP Certificate according to National FDA of Mainland China. In 2009, we passed and approved by National GMP, and continued in 2009 and 2019.In 2004, 2010 and 2011, our factory obtaining the National Industrial Products Production License for manufacturing flavors and fragrance, food flavoring, food additives. Besides, we have set up flavor plant for flavoring production, and our clients from medicine, cosmetic, food industrial.
1. Specification of (97-53-0)
Appearance:Slightly yellow ,oily liguid.Special clove odor..
Relative density: 1.064-1.074
Refractive index: 1.527-1.535
Specific Rotation: +9 ° - +15 °
2.Solubility of (97-53-0)
soluble in ethanol more than 70%
Content: contains more than 99% of eugenol
3.Use of (97-53-0)
oral medicine for antiseptic and disinfectant, warm stomach, Wenshen, cure stomach cold sore swelling; bad breath, toothache; for more stomach gas, colic, indigestion, nausea and vomiting; rheumatic pain, neuralgia,industry is mainly used for the preparation of toothpaste and soap flavor or as a synthesis of Pandan wind.